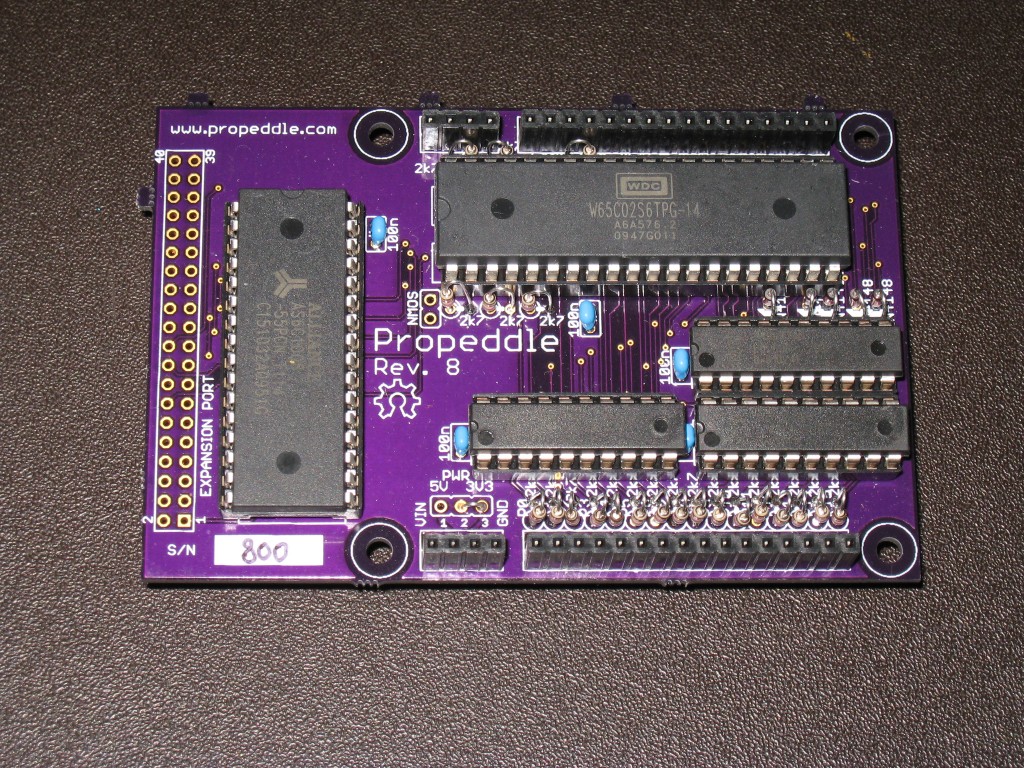 Propeddle is a Software Defined 6502 Computer, based on the Propeller Platform. The name is a contraction of "Propeller" and "Peddle", in honor of Chuck Peddle, one of the engineers who designed the 6502.
It's not an emulator and it's not a replica of any existing computer — it's something in between. It uses a real 65C02 processor as CPU and a real RAM chip as memory. A Parallax Propeller generates the clock and other signals needed by the 65C02, and it also controls the memory chip. This way, the Propeller determines how the 65C02 "sees the world".
Besides some glue logic, that's pretty much it for the hardware. Other hardware such as video, audio, keyboard and storage may be emulated by the Propeller or can be added as an expansion board. The expansion bus also makes it possible to connect Propeddle to a back plane (motherboard) that makes it work without Propeller.
You can buy Propeddle online as a kit. All schematics, PCB designs and software are open source (MIT License) so you can also build one yourself, should you be inclined to do so. All components are through-hole so you can even build one on a breadboard. A Propeller Platform motherboard is needed to make Propeddle work, as well as some other hardware to connect peripherals such as a TV and/or a keyboard.
Propeddle was inspired by the Prop6502 project by Dennis Ferron, for which he got an honorable mention in a Parallax contest in 2008. Thanks for sharing, Dennis!
More information will appear on this website. Much of this information is also available on the SavageCircuits forums.
Thanks for reading!
===Jac